Today we are taking a look at the Inland DB-100 ReefKeeper Saw w/Diamond Blade available at Premium Aquatics. This saw will help you step up your coral fragging game. Thanks for watching and don't forget to subscribe.
Inland ReefKeeper Diamond Blade Saw:
https://goo.gl/LE6Mbv
Visit Premium Aquatics:
https://premiumaquatics.com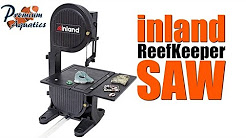 For a chance to win :
1. Watch video and hit Thumbs up
2. Subscribe ...